Share:
Tunica Mississippi
- Golf, Gambling, and The Blues
By David Theoret
Located in the Mississippi Delta, 30 miles south of Memphis, Tennessee, the town of Tunica, MS is truly a "rags to riches" economic development success story. For years Tunica was recognized as the most impoverished city in the country; the neighborhood known as "Sugar Ditch Alley" was recognized as America's most deprived neighborhood.

That all changed in the early 1990s when the casino industry hit the area and legalized gambling put Tunica on the map. Tunica quickly became the third-largest gaming destination in the United States, trailing only behind Las Vegas and Atlantic City. Currently, there are 6 casinos in the area - known as Tunica Resorts - and although most of the population still resides outside the city limits of Tunica, thousands of locals are employed by the casinos.

Tunica is located 25 miles from the intersection of I-55 and I-40 putting it within an easy day's drive to 2/3rd's of America's population. People from near and far to try their luck at a myriad of slot machines and table games at the area's six casinos.

While the allure of gambling and the possibility of greatly increasing one's net worth is the draw for many visitors, there is plenty to do outside of the casinos. If you're into music, you've come to the right place; if you like the blues, even better. The state of Mississippi is known as the "Birthplace of America's Music." The Mississippi Delta is where the Blues began and is home to the King of the Blues B.B. King and the King of Rock n' Roll Elvis Presley.

The Gateway to the Blues Museum is located at the Visitor's Center on Highway 61 and is the first attraction many people see when they roll into Tunica. The building itself dates back to around 1895 and was once a train depot. The staff inside can provide you with a lot more information about this as well as directions, advice and the latest information about events, and attractions. If you need a hotel room or help in making dinner reservations they can help with that as well.

The Gateway to the Blues Museum is a must-see attraction for all music lovers and tells the story of how the blues was born. Another blues attraction is The Mississippi Blues Trail which is the state's tribute to this truly American music genre. The trail consists of 120 historical markers throughout Mississippi, and each marker tells a story about a person, place, or event essential to the creation of the Blues. The plaque outside the Visitor's Center tells the role that Tunica played in helping to grow the blues, with references to the Abbay & Leatherman Plantation, Eddie James "Son" House, Harold "Hardface" Clanton, James Cotton, and the Hollywood Café. More about the latter later.

If you enjoy a round of golf on a challenging course, Tunica has a couple of options. For about what it costs for a couple of spins on a high stakes slot machine, you can play on one of two courses: Tunica National Golf & Tennis or River Bend Links.

Tunica National Golf & Tennis Club
The topography in this part of the Mississippi Delta is pretty flat, but Tunica National Golf & Tennis Club has made the most of it. The course was designed by Mark McCumber and features Champion Bermuda greens that are large and receptive, gently rolling zoysia fairways and six sets of tee boxes. Tunica National winds its way around several lakes and strands of pine trees and features bunkers that are well-maintained with a lot of character with high faces and a rugged look.

None of the par 5s are what I would consider reachable in two, at least from the Blue tees or longer, and each side ends with the toughest hole of that nine. The course's #1 handicap is Number 9, which plays 415 yards from the back tees with water down the right side and bunkers in the narrow landing area. Success off the tee will leave a mid-iron into a well-protected green with sand and water on the right.

To me, the #2 handicap, Number 18 was more challenging. It's a 443-yards par 4 dogleg left with water looming in the landing area off the tee. The hole gets longer when you have to hit less than driver off the tee and leaves a longer approach. The green has a lot of undulation and is guarded by two bunkers in front. It is a really challenging finishing hole.

Tunica National has a very impressive practice facility many players come here just to hone their game. There's a 360° driving range where you can hit every club in the bag, a separate short game area, and practice putting green. After your round, stop by the lounge for your favorite adult beverage or a bite to eat. The food is fantastic and the staff friendly.

River Bend Golf Links
I realize that to be considered a true "links" golf course a large body of water needs to be involved and although the mighty Mississippi River is nearby, I don't think it counts. That said, River Bend Golf Links is the closest thing I've encountered to a links course outside of Scotland. The bunkering on each hole gives it a rugged look and a Scottish feel, and when the wind is blowing, even more so. Although the course is a shadow of its former self, the greens are in great shape and the course is a lot of fun to play, regardless of how good you are. According to General Manager Chris Conklin, many of the bunkers will be filled in soon; they are just too maintenance-intensive. So, if you'd like to get a feel of what it's like to play in the Home of Golf without the expense of airfare and the hassle of a passport, give River Bend Links a try.

Visitors to the Tunica area have a lot of choices when it comes to selecting a place to lay their heads at night. MGM Resorts International's Gold Strike Casino Resort seems to offer the best value when it came to rooms and dining options and their world-class casino. Our suite had a king-size bed, large, flat-screen TVs in both rooms, ample sitting area, and a master bathroom with an air jet tub. For breakfast, I highly recommend the buffet at the Buffet Americana, they offer everything you could dream of for breakfast. For dinner, you won't find a better steak in town than what they serve at the Wine Spectator award-winning Chicago Steakhouse; their seafood dishes are delicious too! And be sure to check out the dessert menu.

If you're looking to get a casual bite to eat while at the Gold Strike, check out their newest offering, BetMGM Book, Bar & Grill. MGM invested $7 million in what they believe is the future of gambling: the sportsbook. BetMGM opened Mississippi's first sportsbook on August 1, 2018, 26 years to the day after legalized betting launched in the state. In addition to great food and drink, BetMGM features more than 60 HD screens including a giant video wall, expansive bar, three-meal dining, sportsbook, VIP lounge, lively entertainment, and the Mid-South's first Topgolf Swing Suite.

For those who want to escape the glitter and bright neon lights for a down-home southern meal, head over to The Hollywood Café. We've all heard the saying "You can't judge a book by its cover," and nowhere does that apply more than The Hollywood Café in Tunica. The building looks very dilapidated and run down - it was once an old farm commissary. In addition to serving some of the best deep-fried dill pickles in the state, The Hollywood Café also shares in the area's rich musical history. Pianist Muriel Wilkins performed there for years, and she and the Hollywood Café were immortalized in Marc Cohn's hit song "Walking in Memphis." Many other blues legends have graced the stage of The Hollywood Café. When The Hollywood Cafe originally opened in the summer of '69, there was no stage or food, just a bar. Over the years the café began to offer dinnertime music and a menu evolved that included steak, catfish, and their signature dish, fried dill pickles! The menu is vast and you won't leave hungry...or broke; everything is very reasonably priced.

For more on Tunica or to book your next vacation, please visit their website at www.tunicatravel.com.





Article Tags: Tunica National, Mississippi Golf, Golf in Mississippi, River Bend Golf Links, Tunica National Golf & Tennis Club, Mark McCumber, Gold Strike Casino, BetMGM
Revised: 01/08/2021 - Article Viewed 9,380 Times
About: David Theoret
---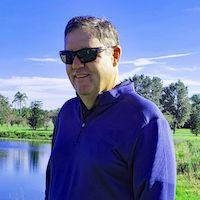 David Theoret has been in the golf and golf travel industry for over 10 years, primarily selling online advertising. For the past seven years, he has also been a golf writer, reviewing golf courses, resorts, destinations, equipment, golf apparel, and training aids - the latter of which never seems to help. David's articles and reviews have been posted on many golf travel and equipment websites.

Growing up in Southwestern Ontario, Canada, it was naturally assumed he would play hockey. Beginning at the age of 3 and continuing into his late 30's, he did just that. However, after one too many pucks to the head, he realized that golf was a lot easier on the body (whoever said hockey players were slow) and took the game up.

After moving to Florida and accepting a position with TravelGolf Media (now part of GolfNow) his love for the game grew exponentially. Most Saturdays you will find him on a course somewhere in Florida or on the practice range reinforcing his bad habits. David plays to a 10 handicap - unless there is money involved in which case it goes considerably higher. He currently resides in Lakeland, FL with his wife Belinda and their two "kids", Madyson and Molly.

---
More Articles by David Theoret