Share:
The Oaks Golf Club
- Exceptional Golf on Mississippi's Gulf Coast
By David Theoret
The Oaks Golf Club, located in Pass Christian, MS is a one-of-a-kind golf club. The course is situated among the majestic timberlands and native wetlands of Mississippi's Golf Coast and provides an unforgettable golfing experience. The Oaks Golf Club first opened in 1998 and over the years has received its fair share of accolades including 4 ½ Stars as a "Best Places to Play" from Golf Digest, "Best Courses You Can Play" by Golf Week Magazine, "Best Course on the Coast" by readers of Coast Magazine and "Golf Course of the Year for the Mississippi Gulf Coast", The National Golf Course Owners Association.

Over the years, the Oaks has also challenged some of the best players in the country, serving as a host course for the former Nike Tour/Buy.com Tour(now the PGA TOUR's Nationwide Series) in 1999 and 2000. They also hosted the first stage of the PGA TOUR Qualifying School in 2003.

The Oaks Golf Club was originally owned by Landmark Land and was designed in-house by two the lead designer and President of the company, Stephen Caplinger and Chris Cole. The course bore the brunt of Hurricane Katrina in August 2005 and over 3,000 trees were lost, although unless you knew better, you'd hardly notice. Russ Bloom is the Owner and General Manager and is well-respected in the golf industry. Russ played college golf at San Diego State and then as a touring professional for four years and now coaches several of the top high school and college players in the area.

As you make your way around this par-72 championship layout you'll find lush fairways with strategically place bunkers off the tee and around the green, dramatic green complexes, creating a serene and peaceful golf experience.

The first four holes at The Oaks Golf Club set the stage for what's to come. Many players will consider them short however they are extremely tight and require a tremendous deal of accuracy. Getting off to a good start on these holes is essential so you may want to consider something less than driver off the tee. On these holes, positioning is much more important than length.

Number 6 is a good looking par 5 dogleg left that seems to just keep turning left. At 517 yards from the Blue tees, long-ball hitters may be able to go for the green in two with a good drive down the right side. There's a lot of undulation in the fairway which can lead to the dreaded uneven lie! For many players, the bunkers on either side of the fairway about 70 yards from the green can easily come into play on the layup shot. The elevated green slopes back right to front left and is guarded by a very deep bunker on the right.

Hole #7 is a challenging par-3 and features the only water hazard on the front nine. It plays 172 yards from the Blue tees over a pond to an elevated green with a deep bunker between water and green.

As you make your way around the course, you'll find areas where the rough is considerably longer; it's not exactly wetlands however it might be when it rains. Bringing any of these areas into play can make a par a lot tougher. Number 13 is a good example of this. It's a dogleg right, par 4 with deep grass on the right, near the corner of the dogleg. Off the tee, the landing area gets smaller is you reach the corner of the dogleg, so it may be wise to hit something less than driver. A good drive will leave a mid-length approach shot into a well elevated green protected by a long narrow green on the left.

Seventeen and eighteen are two good length par 4s and perhaps the best back-to-back finishing holes on the gulf coast. Number 17 plays 396 yards from the Blue tees and, if the wind is blowing, it's probably in your face. Fairway bunkers are in play on either side off the tee, with the one on the right being a lot more difficult to play from. The green features lots of undulation and is guarded by a bunker front left. Number 18 is a long narrow hole that plays 411 yards with a fairway bunker on the right side that can be reached off the tee. Most players will be looking at a long iron or hybrid into the elevated green that is flanked by deep bunkers on either side, There's nothing wrong with ending the round with a par!

The Oaks Gold Club offers a tax-free membership program (There is no tax on membership programs in the state of Mississippi). The Platinum Membership program includes unlimited golf, cart, and unlimited range balls, 14-day advanced tee times, complimentary tournaments in July and December and much more! Fees run $199/month for an individual/$299 for a couple. Bigger discounts are available if you pay upfront! The Oaks will even throw in a free hat! Corporate and Group Rate memberships are also available.

The Oaks Card also offers tremendous value and makes a great gift. For $99 you'll receive a complimentary first round of golf as well as entry in two tournaments of your choosing, a free replay, a comped twilight round when you bring three paying guests, 10 small buckets of range balls and lot more.

Last Word: The Oaks Golf Club is a lot of fun to play, no matter whether you're a seasoned veteran golfer or just taking up the game. This well-treed parkland golf course has plenty of water and wetlands, coming into play on no less than half the holes. The greens are in great shape and roll true. It's obvious that the maintenance crew is diligent in their efforts to keep The Oaks Club looking as good as it does.

The Oaks features a good mix of wide-open holes and those that require control off the tee. It takes a good mental game as well if you want to post a low score here.

Bunkers seem to be very penal - deep with a lot of mounding around them. Nothing wrong with that.

The next time you're considering a golf trip to Mississippi's Gulf Coast, be sure to include at least one round at The Oaks Golf Club. Tee times are available online and through most golf packagers. For more information, please visit their website at www.theoaksgolfclub.com.

Article Tags: Golf in Mississippi, Mississippi golf courses, The Oaks Golf Course, The Oaks Golf Club, Mississippi Golf course of the year
Revised: 04/13/2020 - Article Viewed 9,215 Times - View Golf Course Profile
About: David Theoret
---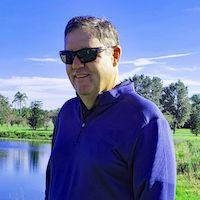 David Theoret has been in the golf and golf travel industry for over 10 years, primarily selling online advertising. For the past seven years, he has also been a golf writer, reviewing golf courses, resorts, destinations, equipment, golf apparel, and training aids - the latter of which never seems to help. David's articles and reviews have been posted on many golf travel and equipment websites.

Growing up in Southwestern Ontario, Canada, it was naturally assumed he would play hockey. Beginning at the age of 3 and continuing into his late 30's, he did just that. However, after one too many pucks to the head, he realized that golf was a lot easier on the body (whoever said hockey players were slow) and took the game up.

After moving to Florida and accepting a position with TravelGolf Media (now part of GolfNow) his love for the game grew exponentially. Most Saturdays you will find him on a course somewhere in Florida or on the practice range reinforcing his bad habits. David plays to a 10 handicap - unless there is money involved in which case it goes considerably higher. He currently resides in Lakeland, FL with his wife Belinda and their two "kids", Madyson and Molly.

---
More Articles by David Theoret